Managing an Uncharted Crisis
The Secretary-General of the Ministry of Health, Welfare and Sport of the Netherlands Erik Gerritsen and his team, have been immersed in the COVID-19 crisis right from the start and are feeling the brunt of it. Erik discusses the unprecedented character of the crisis, the ensuing challenges and his perceived contribution as a leader. Emphasizing the unfamiliar nature of the crisis, Erik openly invites everyone to share their creative and innovative ideas on how to overcome the current threat, continue to deliver high-level care in the foreseeable future and be ahead of the game if and when COVID-19 hits again. 
Key insights
The duration and intensity of the crisis make it exceptional: The crisis may continue for months, possibly even years to come, and there are no clear-cut solutions. For the Ministry personnel and the caregivers in the field, who are directly involved in the crisis, truly disengaging and taking a break is proving to be a serious challenge. The Ministry is busy evaluating potential solutions, as personnel and capacity are limited, and an all-out emergency performance cannot continue forever.

The real test lies in COVID-19 being unknown territory: The Ministry finds itself in the awkward position where it is required to get to know the problem, while simultaneously solving it.

Reflecting on current practices and future solutions while being open for new ideas and opinions is the key to upping our game in the next round: The Ministry is preparing for a second wave of COVID-19 and aims to be ready and set, including the continued provision of regular care. Erik considers that careful reflection on better coping strategies in the future, is a crucial part of his role as a leader, alongside crisis management.

Only together can we overcome this crisis, therefore all helpful ideas are welcome: Erik invites all our viewers to email him directly at with effective and innovative suggestions for dealing with a long-term crisis, without compromising on care standards or personnel welfare.

A crisis of such magnitude also offers opportunities: Much less red tape, unprecedented cooperation between different parties and accelerated innovation are some of those opportunities. Focusing on the positive aspects - the welfare of the team at large, the energy unleashed from society and the vision of succeeding at the end - helps counter the sorrowful aspects of the situation.

Crisis management requires fast decision making based on little data, and Erik takes full responsibility for it: The 'benefit of hindsight' is a privilege reserved for later analysis. Criticism from the media and parliament members over crisis management decisions is inevitable; however, Erik is confident that at every stage his team and the personnel in the field have acted to the best of their understanding at that particular moment.

Creating a safe and supportive environment is Erik's way of facilitating the work of his team during these stressful times: For example, the team is busy collecting 'best practice' anecdotes from the past couple of months in an effort to learn but also to show appreciation for the tireless effort invested in dealing with COVID-19. Supportive management notwithstanding, the weight and implications of the decisions taken may well create heightened emotional stress amongst individuals in the team.
Can you do what Martin can?
To help you keep your energy levels high and stay positive throughout your day it is essential to take breaks regularly. To help you get more out of your downtime, Martin Pet, a seasoned sport and performance psychologist and physiologist, will challenge you to perform a wide range of exercises that will do just that.
Find out how he does it and why
Let's explore a new dimension of having a micro break; meditation. This many thousands years old technique to relax body and mind, is still a very powerful tool to improve your well-being. There are many ways to meditate and the one Martin shows in today's video is about consciously using your senses. Ask yourself in this meditation questions like; what do you see, what do you hear and what is your intention of today? Of course don't answer all of these at ones, give yourself space and time to experience the answers. It's a great way to get you in the here and now, while letting go al kinds of work or private related issues. Namasté.
About the crew member
Erik Gerritsen • Secretary-General of Ministry of Health, Welfare and Sport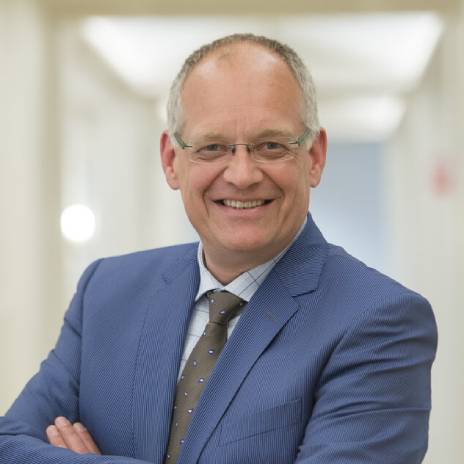 Erik has been the Secretary-General of the Ministry of Health, Welfare and Sport since 2015. Erik is known as a forward-thinking leader with innovation and e-health being part of his portfolio. Erik and his team translate government decisions into health policies, with a vision to "keep the Netherlands healthy and well", as their motto goes. The unforeseen COVID-19 crisis has put this vision to an exceptional test.
Your journey until now