Decent jobs for everybody = collective resilience
Erasmus University Professor Dr. Lex Burdorf specializes in public health and his research focuses on the factors that contribute to collective wellbeing. Lex sees a direct link between decent, satisfying employment and overall wellbeing. By extension, societies whose members feel well taken care of and enjoy equal opportunities to work, grow and develop are likely to be both more cohesive and healthier, physically and mentally.
Key insights
There is a strong association between the number of people having a decent job and the health of a nation: People who have been unemployed for a long time, then go back to work, show markedly improved mental and physical health, as well as increased levels of happiness. Conversely, unemployment is a disadvantage to public health. It increases rates of heart disease, depression and unhealthy lifestyles. Ideally, therefore, resources should be spent on facilitating the entrance or re-entrance of the unemployed into the labour market.

Unemployment in the Netherlands could rise to 10-15% by the end of this year: The pace may be slower than in the US, but the challenges are the same. The young and the self-employed suffering with chronic disease are likely to be especially affected.

The divide between those who have solid employment and a decent income and those who don't is likely to widen as a result of the COVID-19 crisis: The difference between the haves and have nots also translates into difference in physical health, mental well-being and lifestyle decisions.

The future challenges of society are threefold: Facilitating labour market access to as many people as possible; ensuring that the jobs suit the people needing them; and taking care of the more vulnerable groups who struggle with the current pace of working life. Failing to address these challenges will result in a larger socio-economic divide and a lesser chance for those coming from a disadvantaged background to reach their full potential.

Collective resilience is linked with a feeling of belonging and having equal chances: It is social cohesion that allows us to cope better with a pandemic. Social cohesion is built by giving a sense that everyone is needed and taken care of in the best possible way in terms of their chances to grow and develop.

Value the human: Commercial businesses tend to look at the labour force as a commodity. They hire and dispose of individuals as per their need, especially in times of economic crisis. It is up to governments to create an environment where value is placed more on the labour force than on monetary gains alone. When this becomes the societal tone, large businesses will be more likely to comply, which will lead to more people having a decent job and consequently enhance collective resilience and wellbeing.
Can you do what Martin can?
To help you keep your energy levels high and stay positive throughout your day it is essential to take breaks regularly. To help you get more out of your downtime, Martin Pet, a seasoned sport and performance psychologist and physiologist, will challenge you to perform a wide range of exercises that will do just that.
Find out how he does it and why
Today Martin gives us a very relaxing, efficient and unbelievable effective breathing exercise. While you fully breath in and out your heartbeat slows down and your blood pressure drops. And by doing so you flow into the rest state of your body and mind pretty fast. Just a couple of these deep breaths may already do the work. You feel more relaxed and give your brain the time out to reload again. This is in particular beneficial for brain workers who need their cognitive abilities not only in the morning, but in the late afternoon as well. Do it frequently and you will notice that your responsiveness will improve dramatically.
About the crew member
Lex Burdorf • Professor in Public Health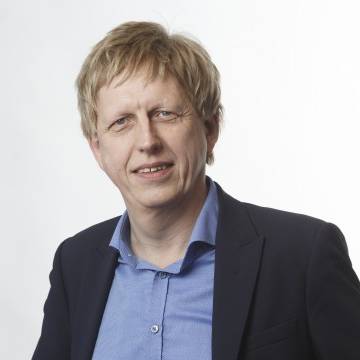 Prof. dr. Burdorf is Professor in Public Health at Erasmus University Medical Center (Erasmus MC) in Rotterdam. He is responsible for research programs in several areas of occupational health, social epidemiology and health behaviour, and also serves as a government advisor.
Your journey until now