Stay Focused Stay Healthy
In the last regular episode of Perform in the storm we have Gys Driessen as our guest. He is HR Director of Radboud University Medical Center (Radboudumc), one of the largest in the Netherlands. He and his team witness firsthand the heavy impact of the COVID-19 crisis on healthcare staff. They strive to maximize support to individuals, teams and leaders, to allow for recovery and return to normal functioning. At the same time they are busy preparing for a new healthcare reality, and the possibility of a second COVID-19 wave. Gys stresses the crucial importance of adhering to social distancing measures in reducing the risk of a second wave and thereby providing the healthcare system a much-needed breather for recovery and re-organization.
Key insights
Maintaining the social distancing measures is crucial, to allow the healthcare system the necessary breathing space to recover, innovate and prepare for a possible second wave: The longer we keep free of COVID-19, the better the healthcare system can catch up with postponed treatments and discover new ways of dealing with the virus.

Healthcare is going back to normal functioning, but not without challenges: Medical staff recruited from all wards now go back to their original units. They have, however, worked exceptionally long hours and were exposed to difficult situations and higher than normal death rates due to COVID-19, so they need help with unwinding.

Support for the staff was instigated right from the start of COVID-19, but now a long-term strategy needs to be worked out: Peer support and psychological help were available from the beginning, but the long-term effects of the first months of the pandemic are yet to be dealt with.

At Radboudumc, the situation is viewed from four different angles: Individual, team, leader and organization. Individual – setting one's limits and daring to ask for help. Team – looking after and taking care of one another. Leader – being directly involved with the staff and acknowledging the difficulties. Organization – offering resources in the form of training, manpower and peer support.

Digital health (aka e-health) can help reduce pressure on a healthcare system that was already over-stretched even before the crisis: Both patients and doctors wish to maintain close contact; digital contact can help achieve this satisfactorily. Before the crisis this was limited to 1% of appointments, whereas now it's up to 30% of appointments in some units. And it works well.

Moving forward in a new reality, the priority is taking care of the staff: If the staff is well taken care of, they can perform well and healthcare can be offered as it's meant to be.
Can you do what Martin can?
To help you keep your energy levels high and stay positive throughout your day it is essential to take breaks regularly. To help you get more out of your downtime, Martin Pet, a seasoned sport and performance psychologist and physiologist, will challenge you to perform a wide range of exercises that will do just that.
Find out how he does it and why
Eye-hand coordination means a lot more than typing letters and watching them appear on your screen. The eye-hand challenge Martin gives us today is an ancient one, approximately 2800 years old. It's dated from the time the first coins were minted. Nevertheless, most of us might not have tried this one before. So, put a coin on your elbow and catch it. Pretty hard isn't it? Do it also with your other arm, and if that's not challenging enough do both elbows at once. And by the way, good to realize that even in stormy times, some things just remain the same.
About the crew member
Gys Driessen • HR Director of Radboudumc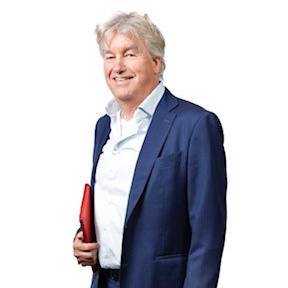 Having studied Law, Gys realized his passion lay elsewhere so he moved to work in human resources for Fuji Film, where he spent 18 years, culminating is his role as HR and General Affairs Director. Since 2000, Gys has worked as a senior coach and trainer in his own company, Stratos, and for the past 4 years in his capacity as HR Director for Radboud University Medical Center (Radboudumc) in Nijmegen.
Your journey until now